Product Description:
JDZ10 , RZL10, VT PT cast resin Insulated and full enclosed, used for electric energy metering, voltage control and relay protection in the power systems of rated voltage 3kV, 6kV, and 10kV or below. The products are in accordance with IEC60044 and GB20840.3-2013 "voltage transformer"
Specification: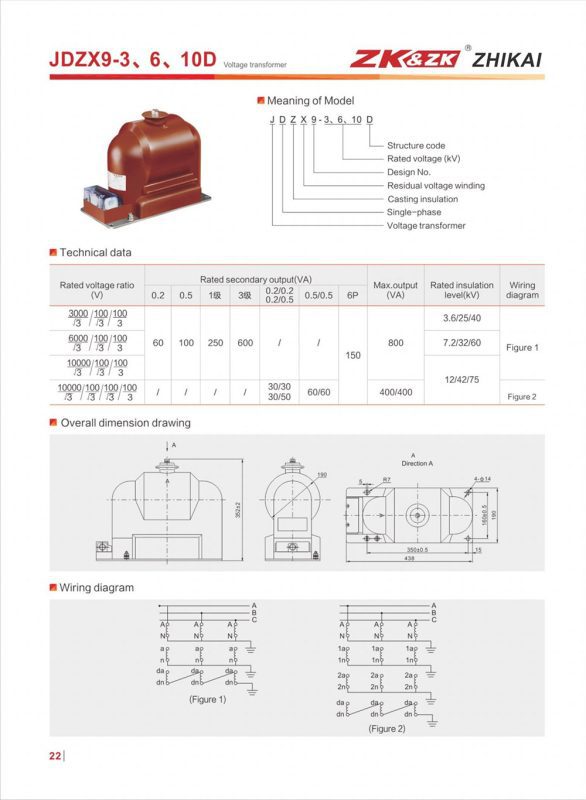 Pay Attention for use of voltage transformer
Before the voltage transformer is put into operation, it shall be tested and checked according to the items specified in the regulations. For example, polarity measurement, connection group, shaking insulation, nuclear phase sequence, etc.
The wiring of voltage transformer shall ensure its correctness. The primary winding shall be connected in parallel with the circuit to be tested, and the secondary winding shall be connected in parallel with the voltage coil of the connected measuring instrument, relay protection device or automatic device. At the same time, pay attention to the correctness of polarity.
The capacity of the load connected to the secondary side of the voltage transformer shall be appropriate, and the load connected to the secondary side of the voltage transformer shall not exceed its rated capacity, otherwise, the error of the transformer will increase, and it is difficult to achieve the accuracy of measurement.
Short circuit is not allowed at the secondary side of voltage transformer. Because the internal impedance of the voltage transformer is very small, if the secondary circuit is short circuited, there will be a large current, which will damage the secondary equipment and even endanger personal safety. The voltage transformer can be equipped with a fuse at the secondary side to protect itself from damage due to short circuit at the secondary side. If possible, the primary side shall also be equipped with a fuse to protect the high-voltage power grid from endangering the safety of the primary system due to the fault of the high-voltage winding or lead of the transformer.
In order to ensure the safety of people when contacting measuring instruments and relays, the secondary winding of voltage transformer must be grounded at one point. Because after grounding, when the insulation between primary and secondary windings is damaged, the instrument and relay can be prevented from high voltage endangering personal safety.
Split Core Current Transformer
Bushing Current Transformer
Low Voltage Current Transformer
Medium Voltage Current Transformer
Get
in Touch with Us! a Quote Now ! an Answer Now !