Protection CT with Power Current Transformer
Get
in Touch with Us! a Quote Now ! an Answer Now !
Product Description:
The LSYK2 series of residual current transformer split-core type,which are designed by our technical manager to meet the market demand, and are widely used in electrical fire monitoring, intelligent power utilization and other fields. It is poured with epoxy resin which has good anti-seismic and moisture-proof properties. It can be directly installed without disassembling the cable, that greatly reduces the cost of installation. LSYK2 for circle type, LSFK2 for square type.
Features:
Rated secondary current should be 1mA, 0.5mA,2.5mA
Round and squares can be choose.
Open closed ct
Epoxy resin poured
5.According to the national standard GB14287-2005 electrical Fire Monitoring System and relevant specifications electrical Fire monitoring system
Specification: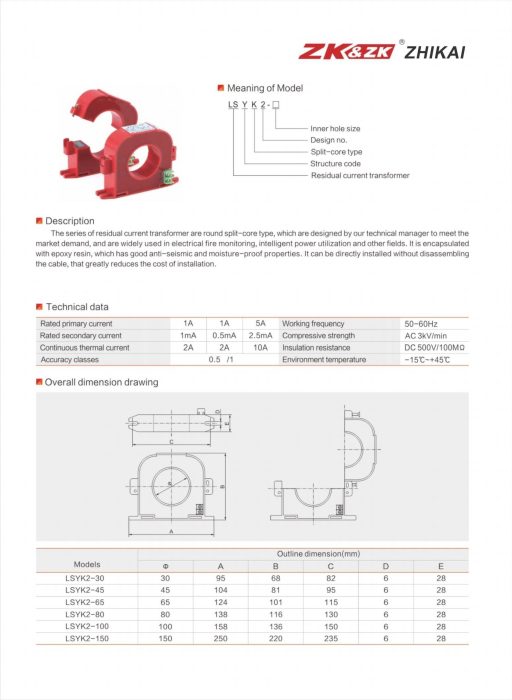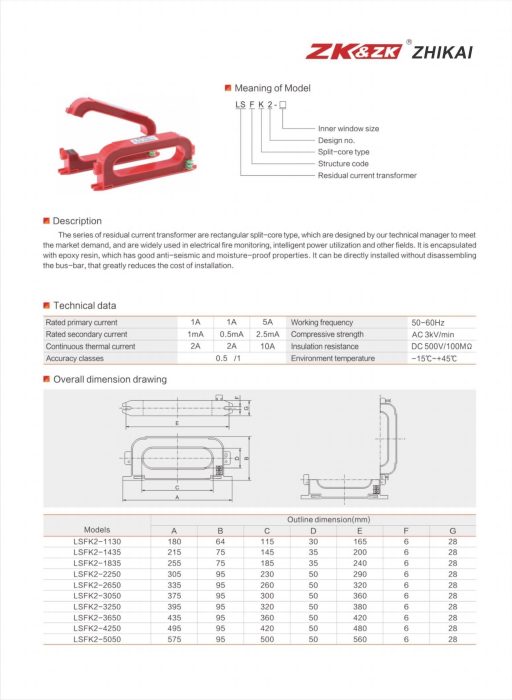 Note: The current Ratio above are common type, other specifications can be provided according to customers' requirements
Application:
Electrical fire monitoring device
Design Method (interim provisions), then the basic composition of the electrical fire intelligent monitoring system should include: electrical fire monitoring device, residual current electrical fire monitoring detector and temperature measuring electrical fire monitoring detector, and other three most basic product types.Among them, the residual current electric fire monitoring detector is composed of the monitoring detector and the residual current transformer (divided into two types: pair plug type and closed type).The temperature measuring electrical fire monitoring detector consists of a monitoring detector and a temperature measuring sensor.
Why choose us?
Cores all is produced by ourselves, and to test the performance of core. Finished product will be test by instrument transformer calibrator. If find defective if can be rework , will be rework, if not as wasters.
We own one strong R&D and QC team,and 100%quality inspection is performed before delivery.
Have the ability to do OEM/ODM to meet clients' requirements.
Zhikai has been making iron core for more than 22 years by ourselves; has been making CTs in China for 12years.
Split Core Current Transformer
Bushing Current Transformer
Low Voltage Current Transformer
Medium Voltage Current Transformer
Get
in Touch with Us! a Quote Now ! an Answer Now !