Low Voltage Split Current Transformer
Get
in Touch with Us! a Quote Now ! an Answer Now !
Product Description:
LMCK series is a miniature current transformer, clamp on CT. It has the characteristics of small size, light weight, and easy installation. Rated secondary output can be mA, mV, 1A, or 5A.  Inner hole size is 10mm up to 50mm. The flame-retardant plastic housing, protected from moisture, stable in performance, and require no maintenance. The secondary winding can not be open-circuited in service.
Features:
The structure of the self-locking, safe, easy to install, portable
 Wide range of sizes to accommodate big cables or bus-bar
 Isolated plastic case recognized according to UL94-V0
 Wires plugs as customer's requirement.
Laser printing available.
Specification:
| | | | |
| --- | --- | --- | --- |
| Model | Inner diameter | Ratio1 | Ratio2 |
| LMCK-10 | 10mm | 5A/2.5mA, 20A/10mA, 75A/25mA, 60A/20mA, 1-80A/0.333V | |
| LMCK-16 | 16mm | 100A/33.3mA, 100A/40mA, 120A/40mA, 200A/66.7mA, 100-200A/0.333V | |
| LMCK-24 | 24mm | 100A/40mA, 200A/40mA, 200A/66.7mA, 400A/80mA, 100-400A/0.333V | 100/5A,250/5A,  300/5A,400/5A |
| LMCK-36 | 36mm | 300A/100mA, 400A/40mA, 500A/50mA, 600A/60mA, 300-600A/0.333V | 300/5A,400/5A,  500/5A,600/5A |
| LMCK-50 | 50mm | 500A/50mA, 600A/60mA, 800/80mA,  800-1000A/0.333V | 600/5A,800/5A,  1000/5A,1200/5A |
Note: The current Ratio above are common type, other specifications can be provided according to customers' requirements.
Outline Dimension drawing(in mm ) :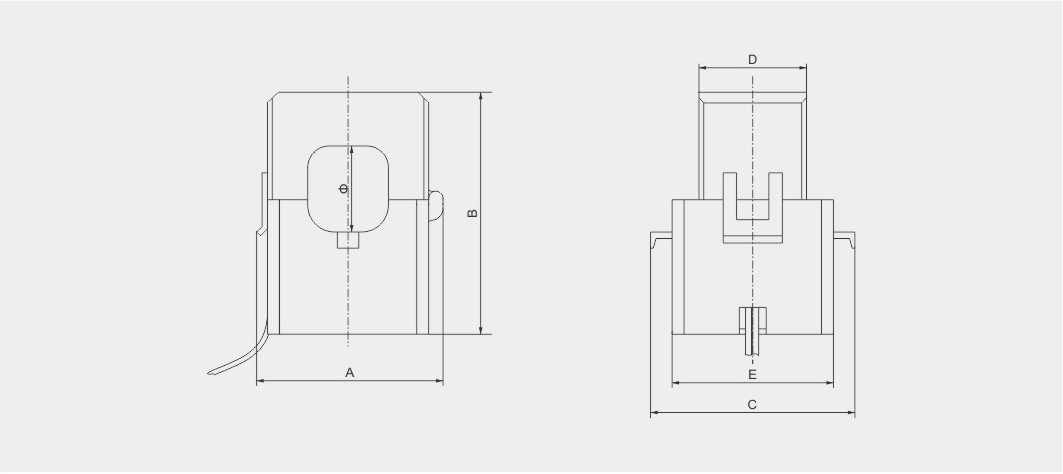 Outline size (mm)
φ
A
B
C
D
E
10
29
41
34
14
26
16
39
46
38
20
31
24
54
66
43
23
35
36
68
85
50
25
43
50
93
120
70
28
60
Zhikai ,we own one strong R&D and QC team continues to innovate new solutions for customers in the area of Smart Grid Industry all covering distribution, Saving&Protecting&Metering Electicty, and Power System.
Application:
Current measurement, monitoring and protection for electrical wiring and equipment.
Current and power measurement for electric motors, lighting, air compressor, heating and ventilation system, air-condition equipment and automation – control system.
Current, power and energy monitoring device.
Relay protection device.
Why choose us?
Cores all is produced by ourselves, and to test the performance of core. High accuracy split core ct of finished product will be test by instrument transformer calibrator. If find defective if can be rework , will be rework, if not as wasters.
We own one strong R&D and QC team,and 100%quality inspection is performed before delivery.
Have the ability to do OEM/ODM to meet clients' requirements.
Zhikai has been making iron core for more than 22 years; has been making CTs in China for 12 years.
Split Core Current Transformer
Bushing Current Transformer
Low Voltage Current Transformer
Medium Voltage Current Transformer
Get
in Touch with Us! a Quote Now ! an Answer Now !