Transfomer Toroidal Iron Cores
Get
in Touch with Us! a Quote Now ! an Answer Now !
Product Description:
High quality CRGO (Cold Rolled Grain Oriented) steel sheet with low iron-loss and high permeability in thickness :0.2mm,0.23mm,0.27mmand 0.3mm……….etc.  different sizes.
Features:
High permeability
Higher measuring accuracy.
Low manufacturing costs( compare to nano-crystalline)
Cores all is produced by ourselves, and to test the performance of core.  Finished product will be test by instrument transformer calibration. If find defective if can be rework , will be rework, if not as wasters.
Customer cooperation:
We like to cooperate with our clients sincerely, start to open the mold if agree, Clients can choose to buy the iron cores from us.  Or we can assemble the product and buy our finished product, such as the current transformer we are selling.
Specification:
Note: Any sizes of transformer toroidal iron cores can be produced according to customers' requirement.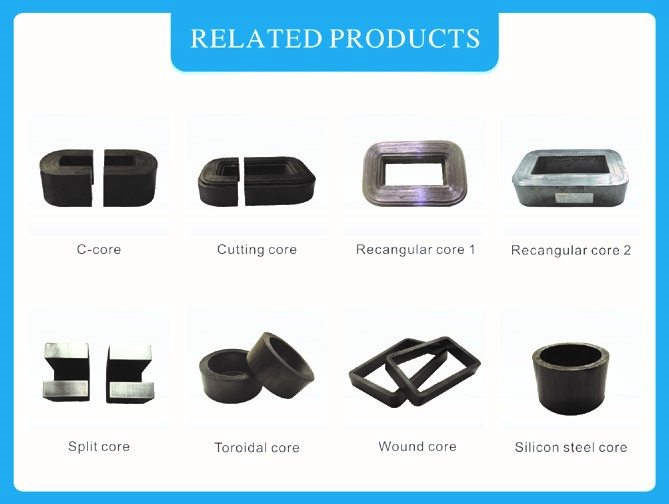 Application:
It is also the largest amount of magnetic material used in power transformers.Especially in low frequency, high power is most suitable.Commonly used have cold – rolled silicon steel sheet. The CRGO cores with BG, soft magnetic core, and msq mes cores are suitable for all kinds of electronic systems, household electrical appliances in the medium and small power frequency transformer and reactor, reactor, inductor core, this kind of alloy good toughness, can be washed pieces, cutting and processing, iron cores with folding plate and coiling.However, the loss increases sharply at high frequency, and the general service frequency does not exceed 400Hz.
Package:
Corrosion preventive paper, then to carton (inside) , steel belt, wooden or plastic pallet (outside) , is suitable for long sea transportation.
Split Core Current Transformer
Bushing Current Transformer
Low Voltage Current Transformer
Medium Voltage Current Transformer
Get
in Touch with Us! a Quote Now ! an Answer Now !