Get
in Touch with Us! a Quote Now ! an Answer Now !
 Product Description:
Split iron core is made of silicon steel sheet, with smooth cutting surface and good performance. It is widely used in current transformer, transformer and the power system.
Features:
1.High Saturation material, low cost &high efficiency
2.wide inductance range,high current capability low magnetic leakage
3.low DC resistance,good control on noise due to the toriodal con-structure
4.Characteristics:Small volume, Big current output, Excellent current choking performance.
5.Various material available to meet different frequency requirements
Zhikai ,we own one strong R&D and QC team continues to innovate new solutions for customers in the area of Smart Grid Industry all covering distribution, Saving&Protecting&Metering Electricity, and Power System.
Customer cooperation:
If you are sincere, please contact us to discuss negotiate the iron cores or the current transformer which is best-selling in your city. Will consider to open the mold or not . Zhikai,we provide technical support and the quality guarantee.
Specification:  
Because of its structure in two split cores to form a closed flux path, is an open structure. Cores can be cut full surfaces of the cut-core are rectified with great attention to ensure flatness and precision.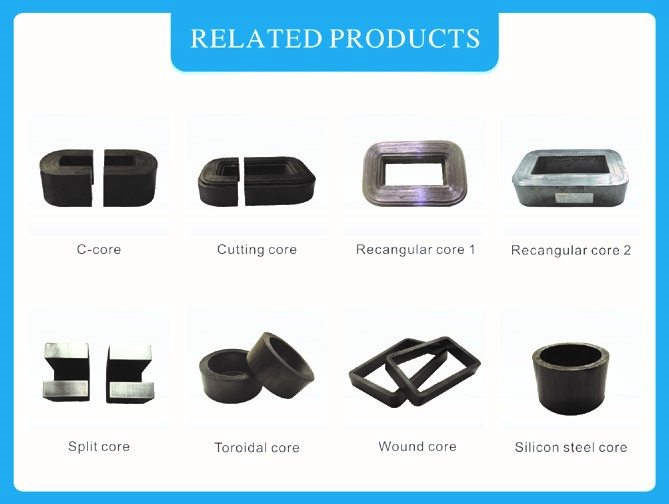 Note: C type cutting cores, the specification and sizes to contact to know.
Cores with other specifications can be provided according to customer's demand.
Application:
 Transformer cores are generally made of silicon steel.Silicon steel is a kind of steel containing silicon (also known as silicon), which contains 0.8 ~ 4.8% of silicon.Silicon steel is used as the core of transformer, because silicon steel itself is a magnetic material with strong magnetic conductivity. In the current coil, it can produce a large magnetic induction intensity, which can reduce the volume of transformer.
Package:
Corrosion preventive paper, then to carton (inside) , steel belt, wooden or plastic pallet (outside) , is suitable for long sea transportation.
Why choose us?
Cores all is produced by ourselves, and to test the performance of core. Finished product will be test by instrument transformer calibrator. If find defective if can be rework , will be rework, if not as wasters.
We own one strong R&D and QC team,and 100%quality inspection is performed before delivery.
Have the ability to do OEM/ODM to meet clients' requirements.
Zhikai has been making iron core for more than 20 years; has been making CTs in China for 8 years.
Split Core Current Transformer
Bushing Current Transformer
Low Voltage Current Transformer
Medium Voltage Current Transformer
Get
in Touch with Us! a Quote Now ! an Answer Now !