DSC Low Voltage Current Transformer
Get
in Touch with Us! a Quote Now ! an Answer Now !
Product Description:

DSC Low Voltage Current Transformer can convert a large value of primary current into a smaller value of secondary current by a certain ratio, which can be used for protection, measurement, etc. Its structure is fully enclosed, and it has the advantages of good mechanical properties, high corrosion resistance, strong voltage isolation, and easy vertical installation. It uses special grade resin, which takes up little space.
Features:
DSC Low Voltage Current Transformer features small, bus-bar mounting, and it has different inner hole size, allowing clamping of cables, or bus-bars. It has the advantages of plastic case, low voltage current transformer, and low cost. This transformer can provide you consistent performance and quality, so you can rest assured to purchase.
Technical Parameters
Rated Frequency : 50-60Hz
Rated Test Voltage: 3kv Ac.(1min)
Rated short-time thermal current (Ith): 60In
Rated dynamic current (Idyn): 2.5Ith
Rated voltage(Um): 0.72Kv Ac.
Continuous overload(Id): 1.2In
Operating temperature: -10 ~ 50
Housing self-extinguising class: VO
Safety factor: FS 5
Secondary current : 5A/1A
Specification: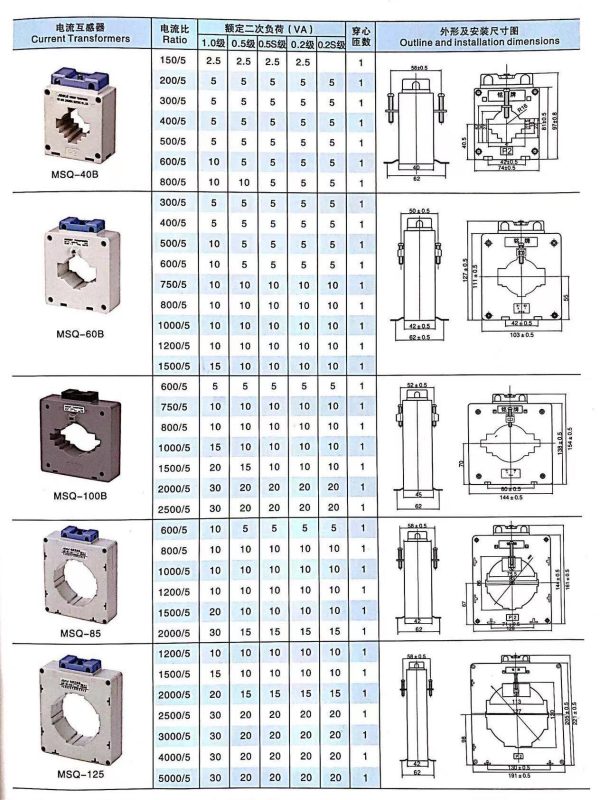 Package:
Inner paper box, outer carton
Split Core Current Transformer
Bushing Current Transformer
Low Voltage Current Transformer
Medium Voltage Current Transformer
Get
in Touch with Us! a Quote Now ! an Answer Now !